Certification Trainings at the Portside Art and Relational Therapy Institute in Port Stanley, Ontario
Our Certification Trainings have a special way of honouring mind-body-relationship bringing together the creative, spiritual and psychological aspects of human development, attachment, trauma informed, integrative path of study. The third wave approach to mind-body-relationship inspires academic excellence in concert with self-enrichment and integrative transformation.
Certification Training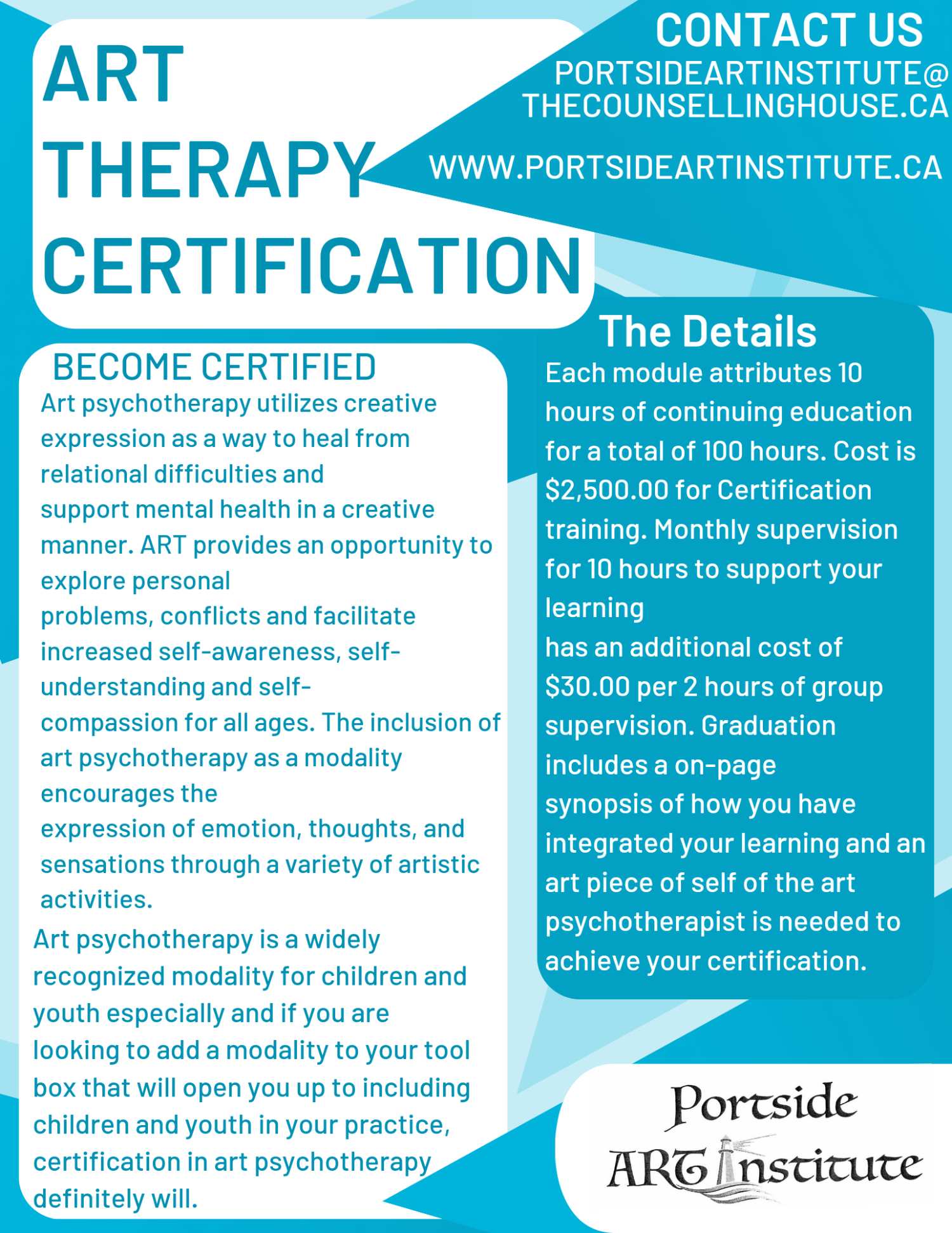 Integrating Art Psychotherapy into Practice Program
Integrating Art Psychotherapy into Practice is a distance learning program for already practicing professionals who wish to incorporate art therapy into their current practice, thereby infusing something new and powerful into their current practice, not necessarily to become an art therapist.
This certification course provides a course curriculum of ten components.
Art therapy trainings and techniques
Human development and art therapy
Child art therapy
Adolescent art therapy
Family art therapy
History and theories
Trauma-informed art therapy
Assessment
Ethics of art therapy
Art psychotherapy utilizes creative expression as a way to heal from relational difficulties and support mental health in a creative manner. ART provides an opportunity to explore personal problems, conflicts and facilitate increased self-awareness, self-understanding and self-compassion for all ages. The inclusion of art psychotherapy as a modality encourages the expression of emotion, thoughts, and sensations through a variety of artistic activities.
Art psychotherapy is a widely recognized modality for children and youth especially and if you are looking to add a modality to your tool box that will open you up to including children and youth in your practice, certification in art psychotherapy definitely will.
Each module attributes 10 hours of continuing education for a total of 100 hours. Cost is $2,500.00 for Certification training. Monthly supervision for 10 hours to support your learning has an additional cost of $30.00 per 2 hours of group supervision. Graduation includes a on-page synopsis of how you have integrated your learning and an art piece of self of the art psychotherapist is needed to achieve your certification.
Basic Hypnosis Training
Basic Hypnosis Training
Suited For:
Psychotherapists, Social Workers, Teachers and Instructors, RMTs, Life Coaches, Business Coaches, Dentists, and others…
Learn about and how to apply:
A 5 Day Online Workshop, no prerequisites required.
This workshop is recorded for lifetime access.
June 16-18 from 10am-4pm
And
June 23-24 from 10am-4pm
1,200.00 HST
Pay Online, Register Today!
Make your Payment
You will be contacted to confirm your registration and payment details through email within 48 hours.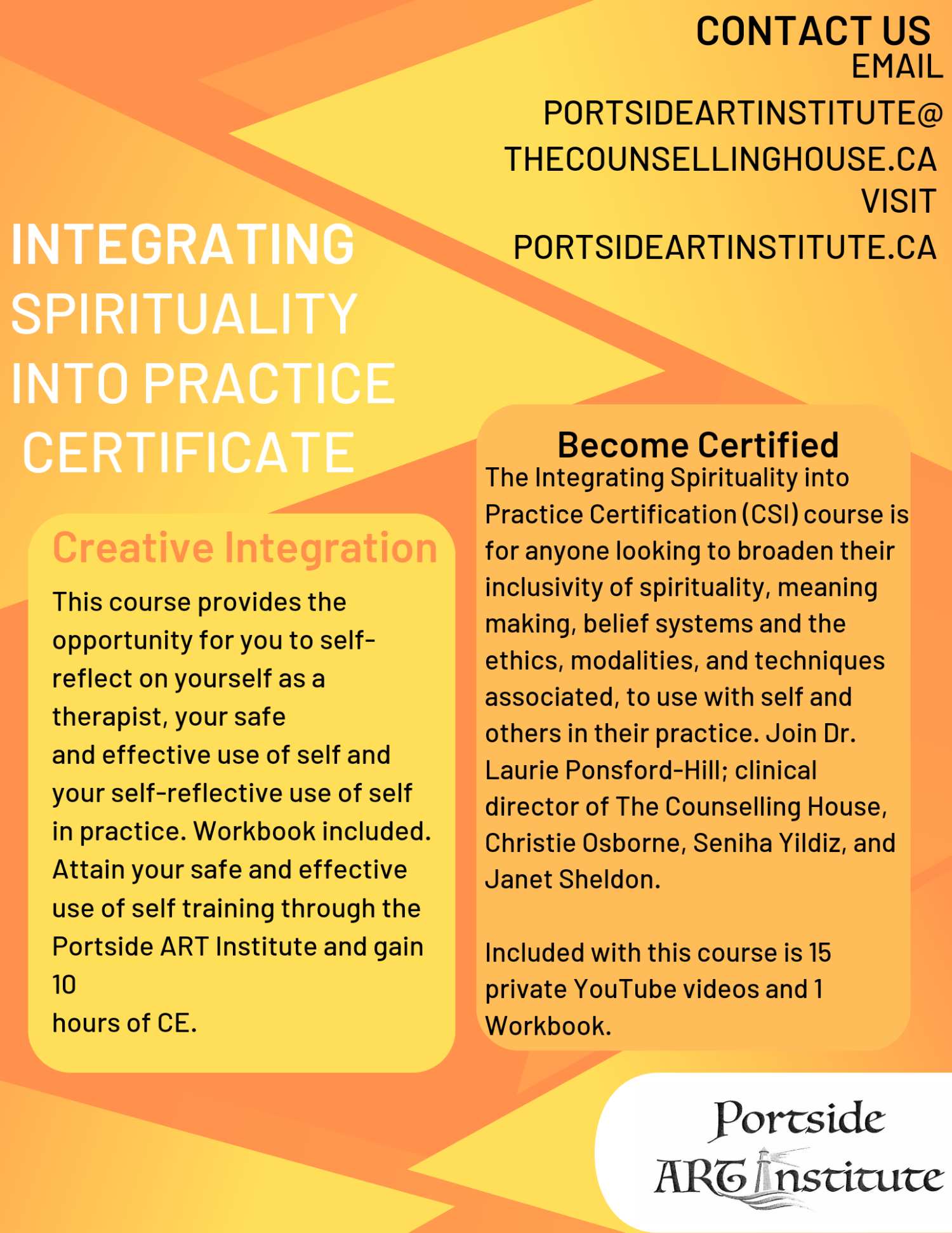 Integrating Spirituality into Practice
This course provides the opportunity for you to self-reflect on yourself as a therapist, your safe and effective use of self and your self-reflective use of self in practice. Workbook included. Attain your safe and effective use of self training through the Portside ART Institute and gain 10 hours of CE.
In order to complete the course a minimum one-page self-reflection and the submission of a self-portrait is required.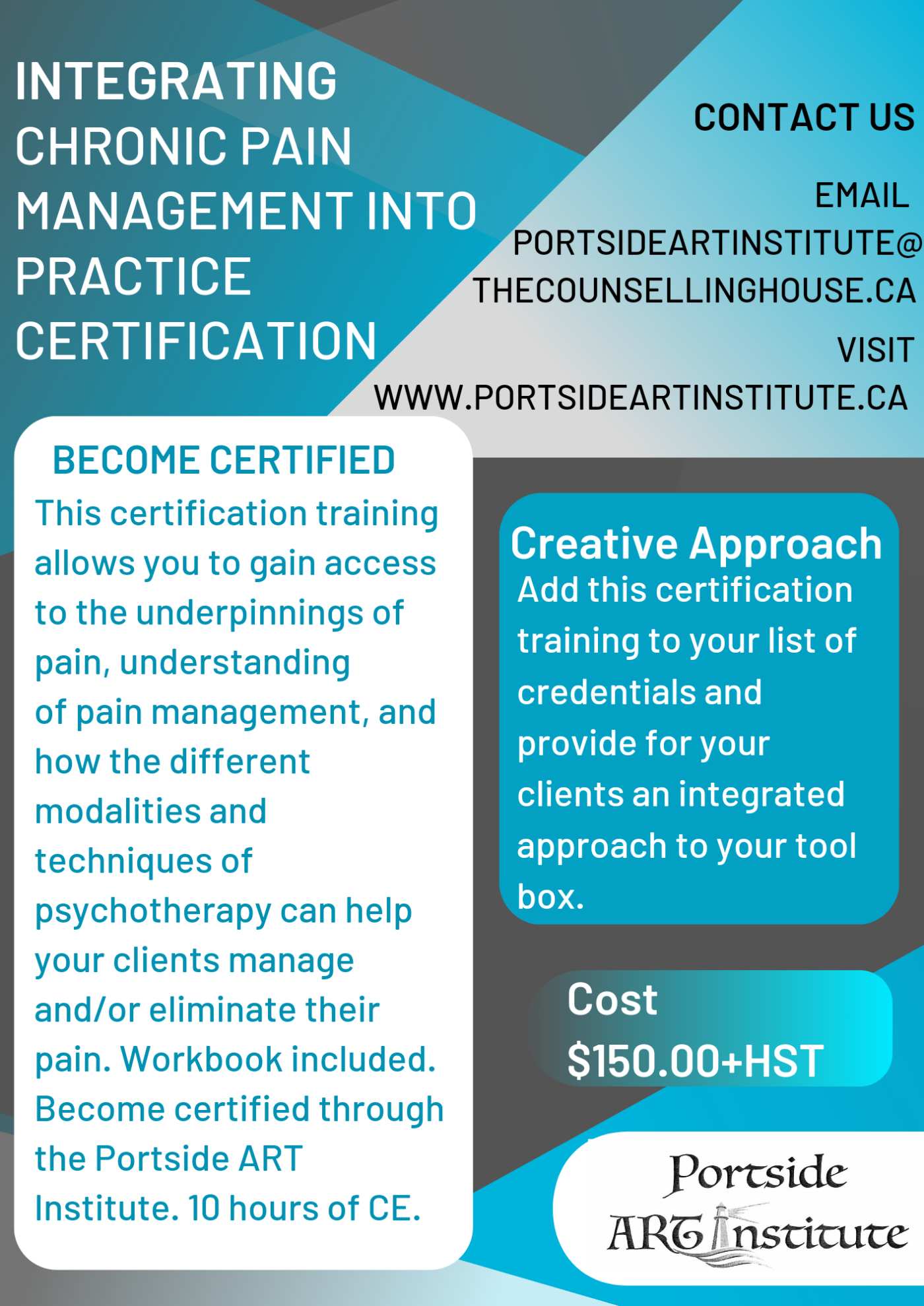 Integrating Chronic Pain Management into Practice
This certification training allows you to gain access to the underpinnings of pain, understanding of pain management, and how the different modalities and techniques of psychotherapy can help your clients manage and/or eliminate their pain. Workbook included. Become certified through the Portside ART Institute. 10 hours of CE.
Provide a one-page review of the application of these techniques for self or other as well as a body outline drawing to receive your certificate of Certification.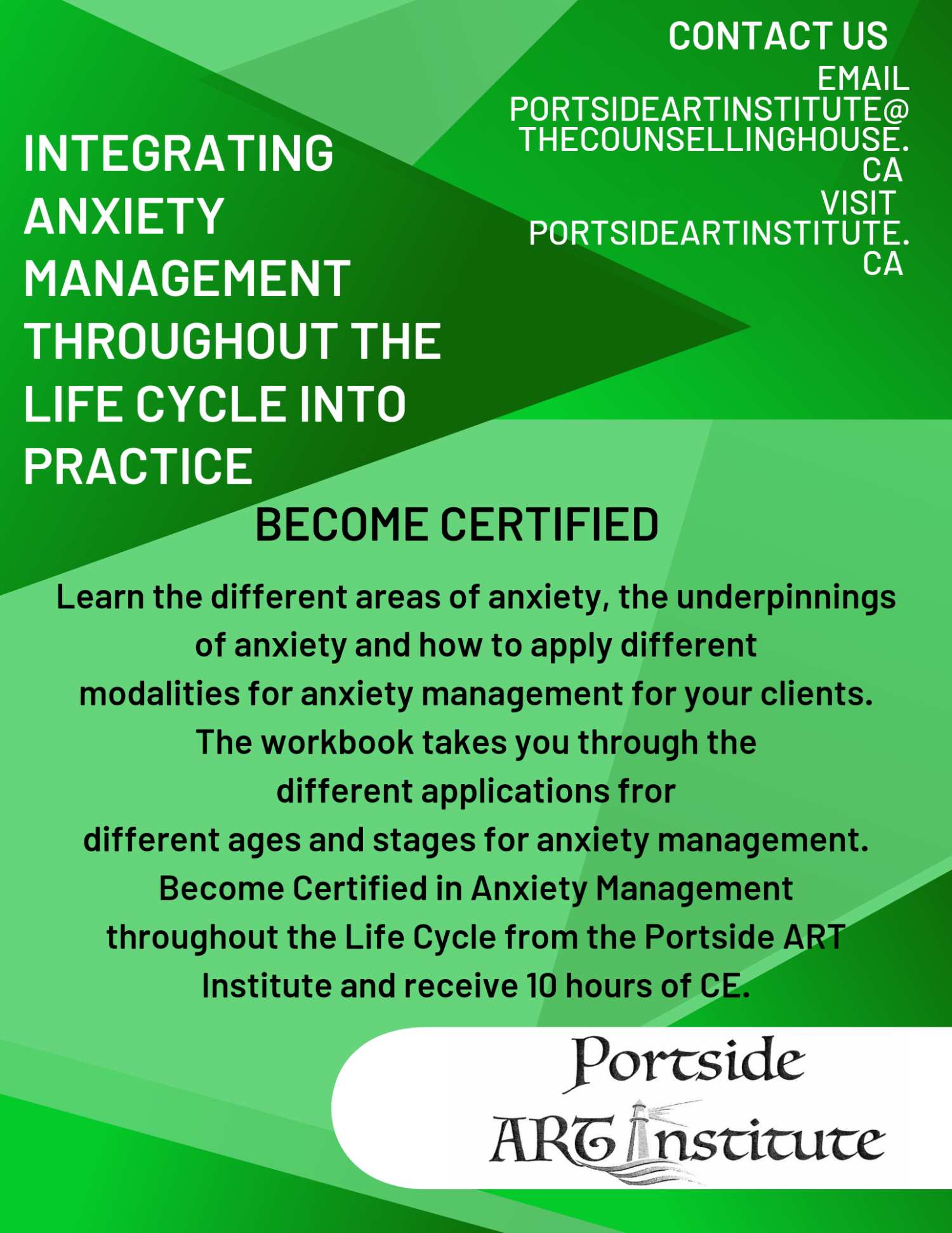 Integrating Anxiety Management Throughout the Life Cycle into Practice
Learn the different areas of anxiety, the underpinnings of anxiety and how to apply different modalities for anxiety management for your clients. The workbook takes you through the different applications from Generalized Anxiety Disorder to Obsessive Compulsive Disorder for different ages and stages for anxiety management. Become Certified in Anxiety Management throughout the Life Cycle from the Portside ART Institute and receive 10 hours of CE.
Provide a on-page reflection on the application of anxiety management and an image of what anxiety looks like to you to attain your certificate and Certification.
Integrating the Art of Sleep into Practice
This course provides the opportunity to incorporate The Art of Sleep into Practice which includes Sleep Anxiety and Insomnia. 5 hours of CE includes
an on-line workbook for individuals struggling with the process of attaining a good night's sleep
recorded meditations
the Sleep Anxiety and Insomnia workbook to work through issues of daily stress and anxiety as well as trauma associated with delayed sleep onset, frequent awakenings, non-restorative sleep, decreased sleep time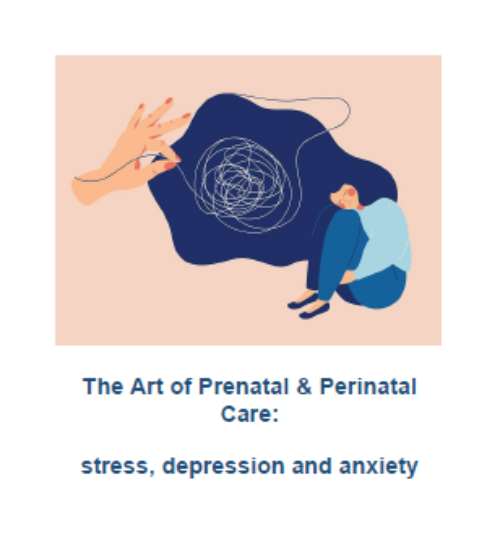 The Art of Prenatal & Perinatal Care: Stress, depression and anxiety
This course covers the spectrum of prenatal and perinatal care. This course brings together critical ideas and human concerns of the process of pregnancy, birth, baby, family and the support needed in order to be able to thrive in a highly stressful, and anxiety provoking stage of life. Expectations and demands can be daunting stressors. Self-care can be pushed to the background with the struggle of life changes to routine, identity, roles and responsibilities, lack of time and sleep. Hormonal, body, and self-image changes can create a spiral of emotions such as depression, and anxiety. Many different theories and modalities come together in this workbook to provide a process to work through these challenges and as an added support of treatment inviting self enquiry, exploration and discovery.