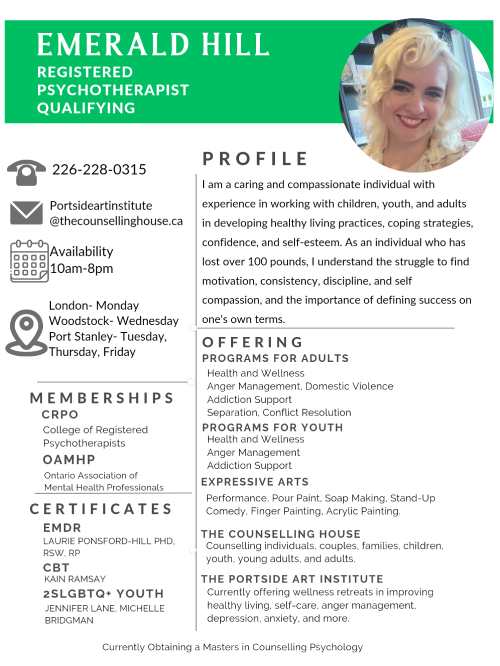 Registered Psychotherapist Qualifying
I am a caring and compassionate individual with experience in working with children, youth, and adults in developing healthy living practices, coping strategies, confidence, and self-esteem. As an individual who has
lost over 100 pounds, I understand the struggle to find motivation, consistency, discipline, and self compassion, and the importance of defining success on one's own terms.
Memberships
CRPO:College of Registered Psychotherapists
OAMHP:Ontario Association of Mental Health Professionals
Certificates
EMDR -Laurie Ponsford-hill Phd, RSW, RP
CBT – Kain Ramsay
2SLGBTQ + Youth – Jennifer Lane, Michelle Bridgman
Offerings
Programs For Adults
Health and Wellness
Anger Management, Domestic Violence
Addiction Support
Separation, Conflict Resolution

Programs For Youth
Health and Wellness
Anger Management
Addiction Support
Expressive Arts
Performance, Pour Paint, Soap Making, Stand-Up
Comedy, Finger Painting, Acrylic Painting.
The Counselling House
Counselling individuals, couples, families, children, youth, young adults, and adults.
The Portside Art Institute
Currently offering wellness retreats in improving healthy living, self-care, anger management, depression, anxiety, and more. Currently Obtaining a Masters in Counselling Psychology